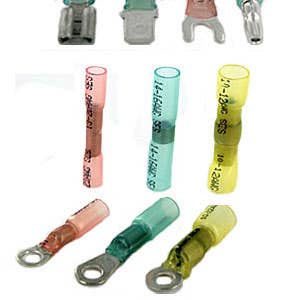 Heat Shrink Terminals and Heat Shrink Terminal Kits
Your professional online source for heat shrink crimp terminals and heat shrink terminal kits for electrical wire. Red, blue and yellow coded heat shrink terminals provide a tough, environmentally sealed wire termination. Heat shrink insulated terminals protect the wire from pull-outs, abrasions, mechanical abuse and resist water, salt and other contaminants. Made in the USA.

Temperature rating: -55° to 100°C
UL Voltage rating: 600 Volts
For use with copper wire only

Crimp and Shrink - Our most popular style provides an easy and effective means of insulating and protecting terminal connections and splices against moisture, dirt and corrosion.
Solder and Shrink - soldered connection provides superior electrical current flow and tensile strength.
Crimp/Solder/Shrink - Crimp for maximum reliability, solder for strength & conductivity and seal for superior durability.