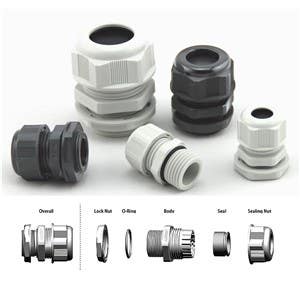 Cable Glands
Our Nylon Dome Cap Cable Connectors are made of Polyamide 6 (Nylon) material and come complete with locking nut and o-ring. Each plastic cable gland is designed to withstand the rigors of continuous flexing and bending for indoor and outdoor strain relief and cable sealing applications.
* UL and cUL rated. CE / TUV / RoHS
* IP68 (Watertight) Bar 5
* 20˚C to +80˚C (-40˚ to -100˚C in static state)
* UL F1 in color black
* Lock nut and embedded O-ring included
* Heat resistant to 100˚C
* Anti-vibration gland nut

The cable gland connectors are resistant to salt water, weak acids, alkalis, alcohol, esters, ketones, ether, gasoline, mineral/animal/vegetable oils.