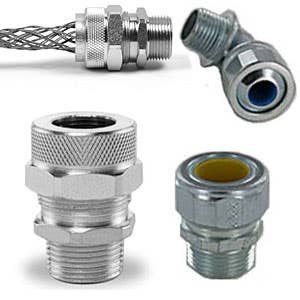 Steel Cord Grips
RSRS series steel cord connectors feature plated-steel body and compression nut. All 'RSRS' steel cord grips are UL & CSA approved and made in the USA. The body and compression nut of each steel cord grip are zinc-chromium plated for added strenght, durability and improved physical appearance.
RSRS cord connectors have been designed to withstand the extremes of water, caustic materials, detergents or surfactants. When a rugged industrial wire termination is needed, RSRS steel cord grips provide a dependable watertight solution. Steel cord grips can be found in washdown or high moisture environments in food processing, water treament, pulp and paper mills and chemical manufacuring facilities.

Zinc-Plated Steel Cord Grips
ElecDirect also offers steel 'CG Series' cord grip connectors. These zinc-plated cord connectors feature screw machined steel fittings, neoprene grommet, and compact size great for oem applications and tight spaces. UL and CSA approved and color coded for wire range identification.