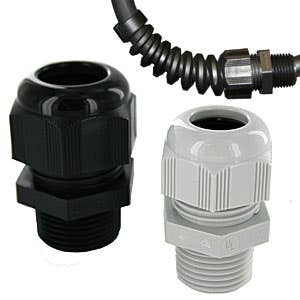 Nylon Dome Strain Relief Connectors
ElecDirect nylon strain relief connectors are made of polyamide 6 with a neoprene seal. Each cable gland is designed to withstand the rigors of continuous flexing and bending both indoors and outdoors.

Simply tighten the top "dome" nut to compress bushing and create reliable seal around your wire or cable.

*Locking Nuts are sold separately. Click Part # to see suggested locking nut.

IP 68 and exceeding NEMA 6 rating, Dome Cap Cable Glands can be utilized underwater to 300ft, underground for direct burial cables, fiber optics, computers, control cabinets, instruments, medical/dental equipment, car washes, hot tubs, pumps, and carpet cleaning machines.

• Easily installed
• 10 sizes accommodate diameters 1/16" to 1-3/4"
• available in NPT, PG & Metric Threading
• Protection Class: IP68, 5 bar
• Operating Temp: up to +150°C intermittent
• Temperature Range: -30° to 80°C permanent
• 3/8", 1/2" & 3/4" thread sizes have anti-vibration gland nut
• Resistant to salt water, weak acids & alkali, alcohol, esters, keytones, ether, gasoline, mineral/animal/vegetable oil.