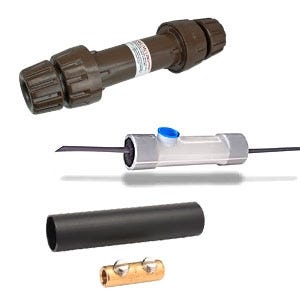 Underground Splice Kits
Designed for electrical applications, the Shake N' Seal underground wire splice kits are suitable for direct burial applications by providing a permanent watertight seal.

* Submersible In Water
* No Mess, No Torch, No Special Tools!
* Immediate Burial
* Permanent Seal in Less Than 4 Minutes!
* UL & cUL listed.
Click on Any Part# For a Detailed Instructional Video

Shake N' Seal electrical splice kits permanently encapsulate 18 to 1 gauge multi-conductor wire splices (600v) and single service conductors up to 250 mcm - up to 5kv.