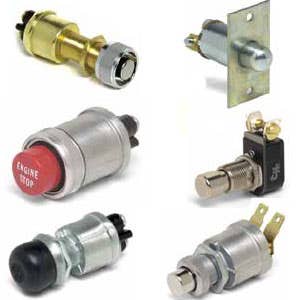 Cole Hersee Momentary Switches
Designed for heavy duty use. Silver contacts available for extra-heavy duty applications to 36 VDC. Imprinted actuator buttons for engine controls are available.

Marine push button switches offer non-corrosive construction, moisture repellent insulators, and brass case, stem, plunger button, terminals and mounting hardware.

Door jamb switches can be stem, snap-in, or flange mounted. Popular for step well and door control in school buses, they are available in a variety of circuits.

NORMALLY OFF. 2 SCREWS MOUNTING STEM: 5/8"-32 THREAD .87" LONG (15A Res, 10A Ind at 12VDC)

Learn More

NORMALLY OFF 10@12VDC 3 SCREWS MOUNTING STEM: 5/8"-32 THREAD 21/32" LONG (BULK 75 PCS MINIMUM)

Learn More