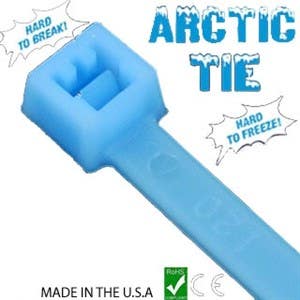 Arctic Cable Ties - Superior Ice and Sun Performance
Tired of cable ties breaking in cold weather? We have the solution. Arctic Cable Ties.

Traditional nylon cable ties are OK in cold weather once they are installed. However installing a frozen cable tie has always led to serious breakage problems. The specially formulated polymer allows our cold weather zip ties to be left in your freezing truck all night and then installed cold. It's tough enough working in cold weather without your equipment failing. Try Arctic Cable Ties today and make your life easier.

Our hard-to-break and hard-to-freeze cold weather zip ties are designed to perform in adverse weather conditions.
• Special polymer additive prevents breakage in sub-zero temperatures.
• UV additive for superior sunlight resistance
• Higher strength rating than regular cable ties. 80lbs vs. 50lbs resistance.
• Distinctive "ICE BLUE" color.
• Made in U.S.A.