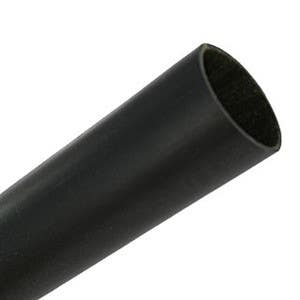 Heavy Wall Heat Shrink Tubing | Direct Burial Thick Wall Heat Shrink
HAPO series heavy wall heat shrink tubing affords maximum reliability for insulating and sealing electrical connections & terminations; including direct burial, URD, and submersible installations. Heavy wall heat shrink tubing is rated for 600V, 90 degree C continuous use. The thicker wall is internally coated with a dual purpose thermoplastic liner for excellent insulating/environmental sealing protection.
Heavy Wall Heat Shrink characteristics:
• Shrink ratio of 3 to 1
• Meets ICEA & NEMA insulation thickness standard; CSA listed
• 9 standard sizes in black only; standard 4ft. lengths
• Conforms to ANSI C-119.1
• Western Underground Guides 2.4, 2.5
• This adhesive thick wall heat shrink tubing is resistant to common fluids and solvents
• Dielectric strength 500V/MIL (20kv/mm)
• Heated above 120 degrees C, heavy wall heat shrink will shrink unrestricted to 33% (3:1) of its supplied diameter.