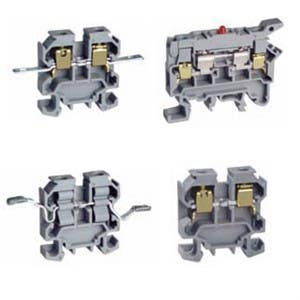 Mini Terminal Blocks | Din Rail or Panel Mount
Mini Feed-Through Blocks - 15mm Din Rail
Mini feed-through blocks for 15mm din rail for wire-to-wire connecting in control, automation, instrumentation, and power distribution applications.

Mini Feed-Through - Panel Mount
For use when space constraints require extremely compact solutions and internal jumping is required.
Individual components can be used to build your own assemblies. Just snap the required number of mini terminal block components together and place a Mounting Section on each end. The CMB4 accepts internal jumpers and standard marking tags.