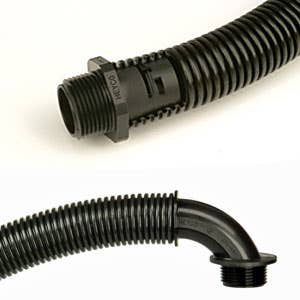 Heyco-Flex Liquid Tight Tubing and Connectors
Non-metallic, flexible corrugated tubing and connectors for trade sizes 3/8" NPT through 1" NPT.

• Flame retardant, Nontoxic and UV resistant.
• Rated NEMA 4 and 4X when tubing and connectors used together.
• Heyco Liquid Tight Tubing is quick and easy install: push tubing over connector until tubing "clicks" into place.
• Suitable for high vibration or flexing applications.