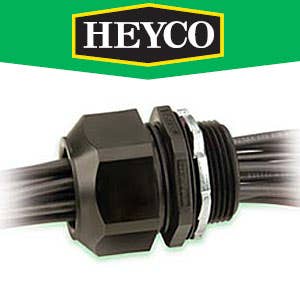 Heyco Solar Masthead II Cordgrips
• Skinned-over glands in the Solar Masthead II Cord Grips offer flexibility to use from 1 to 31 of the available holes while still providing a liquid tight seal (IP68) around the wire.
• Designed for solar rooftop installations.
• Heyco cord grips provide a watertight seal (IP68) for PV module output leads to inverters.
• Secures input PV leads from solar panel array strings to fuse holder hookup within solar combiner boxes.
• UV resistant nylon construction with TPE or Buna N Sealing Gland resists salt water, weak acids, gasoline, alcohol, oil, grease, and common solvents.
• Solar Masthead II Cord Grips provided with assembled metal lock nut.