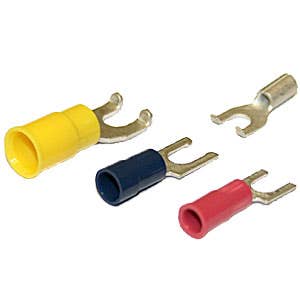 Spade Connectors and Fork Terminals
Your professional online source for spade terminal connectors and fork terminal connectors for electrical wire. Red, blue and yellow PVC or Nylon insulated crimp spade connectors and fork crimp terminals are 600 Volt rated. Made in the USA.

Spade connectors and fork crimp terminal sizes are 22-18, 16-14, 12-10 GA/AWG.

• Funnel ferrule wire entrance into electrical barrel eliminates wire strand 'hang-up', increases crimping rates and wire terminal reliability.

Insulated spade connectors and fork crimp terminals made of PVC and Nylon material have an Operating Temperature Range: continuous duty from -67°F to 221°F (-55°C to 105°C).