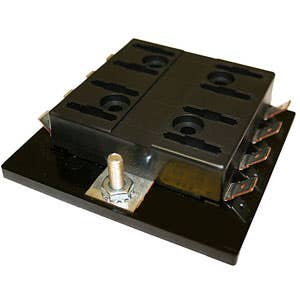 Blade-Type Fuse Blocks & Circuit Breaker Panels
Our Blade and Fuse Panels are compact, lightweight, yet rugged for use in recreational vehicles, trucks, buses & marine applications.
Blade style Circuit Breaker & Fuse Panels accept standard 'ATO/ATC' style blade fuses or automatic/manual circuit breakers.
30 amp maximum rating per branch circuit.
Screw-Type Terminal Blocks
Feature self-insulating, molded housings. Positive current carrying capacity due to tin-plated brass screws and binders.