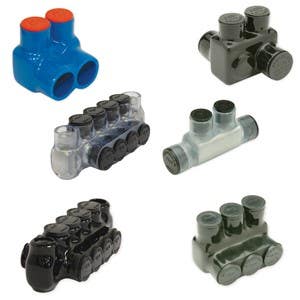 Insulated Power Connectors | Insulated Multi Tap Connectors
ElecDirect offers insulated aluminum multi tap connectors for splice, reducer and tap applications which are dual rated for aluminum and copper conductors, simultaneous accommodations at 600V and 90°C.
Pre-insulated at factory filled with oxide inhibitor and Plugged Ports
• Clear PVC allows visual inspection of conductor properly inserted at installation and final inspection approval.
• Prevents oxidation, moisture and contaminants from contact surfaces.
Wide conductor range
• Available in 2 through 14 conductor configurations in five conductor sizes.

ElecDirect also offers Penn-union Insulated MOTOR LEAD connectors for use with copper cable. The IMLC™ connectors are ideal for use in cable trays, raceways, wire ways, ducts and troughs. The multiple port (multi tap) insulated copper alloy bars mechanically connect incoming copper power leads to the winding leads of the motor in the motor junction box.