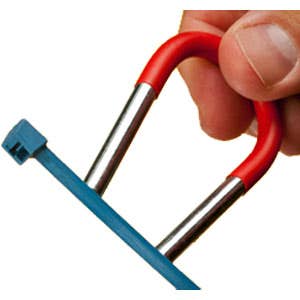 Metal Detectable Cable Ties
Metal Detectable Cable Ties are used when detection of foreign objects in consumable products is critical to avoid recalls and liabilities.
• Prevent possible contamination resulting in costly recalls and liabilities
• More cost effective than stainless steel
• Detected by metal detectors and visual inspection
• Metal content blended throughout cable tie
• Teal color used for quick visual detection
ROHS Compliant - FDA Approved Material
Made In U.S.A.

Disclaimer: The use of metal detectable products demonstrate that due diligence and precautionary measurements have been taken to prevent contaminants in your product. The user of the metal detectable cable ties is liable to adjust all settings on their detection equipment to determine the suitability of use.