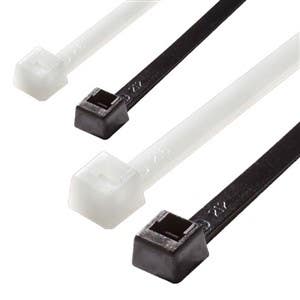 Standard Cable Ties 18 to 50lb
Don't take chances with your nylon zip ties. Our 18 - 50lb tensile strength standard cable ties are made with pride in the U.S.A.---all are UL Listed (Meet ANSI/UL 62275 Type 21), CSA Certified & Mil-Spec Rated.

We ship within 24 hours--our guaranteed fast delivery is what makes us stand out from other "out-of-stock" suppliers.

ElecDirect has a massive selection of natural, black, colored, and heavy duty zip ties in a huge range of sizes, lengths and strengths. We know you'll find what you need at a price point that will fit any budget, all with superior quality.

Use mini 18lb cable ties for light duty bundling/taging

Standard 30-50lb cable ties provide excellent strength for reliable bundling & positioning.