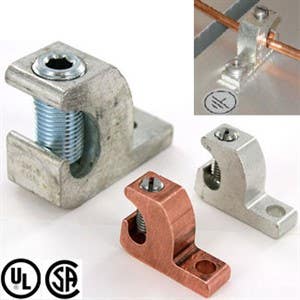 Lay In Lugs | Solar Grounding Connectors
Aluminum lay in lugs are a great choice for quick installation of one continuous grounding conductor or as a jumper to multiple locations. No need to thread the connector. Just back off the set screw, lay in the cable, and re-tighten. It's also easy to retrofit or repair.

For PV Solar Panels
Use Sku# CL50DBTN
CL50DBTN is designed with Solar Panels in mind. Pure electrolytic copper for superior conductivity. Tin plated with a stainless steel set screw to prevent corrosion. UL, CSA & Direct Burial rated.

LI50SS is an aluminum connector with a stainless steel set screw. Good conductivity with good corrosion resistance.