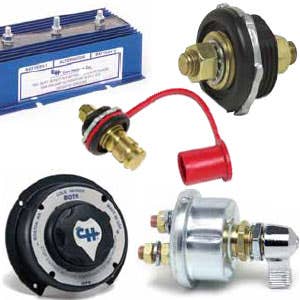 Cole Hersee Battery Selector and Disconnect Switches
Cole Hersee Battery Selector Switches energize either or both of two batteries.

Master disconnect switches prevent tampering or theft when equipment is unattended.

Cole Hersee Battery isolators prevent the battery with the higher charge from draining into the battery with the lower charge.

Battery-related accessories include remote battery jumper terminals, feed-through studs, lockout lever kits and face plates.