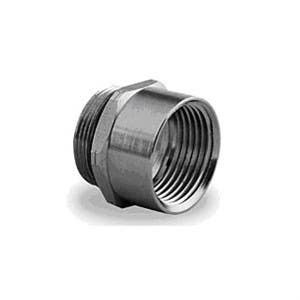 Adapters | Threaded Adapters
Convert Pg to NPT Thread | Convert Metric to NPT Thread

Are you having trouble putting NPT cable glands or conduit fittings onto a European piece of machinery?
Threaded Adapters easily convert PG or Metric threads into NPT threads. Then you can use a regular North American NPT fittings! These adapters are offered with both internal and external threads that mate NPT with Metric (or ISO) style fittings or NPT with Pg fittings.
They are constructed of machined aluminum with electro-nickel plating for enhanced protection against corrosion, friction and contamination. The threaded adapters also incorporate a Viton™ O-Ring to provide a liquid-tight seal. This product family is UL Recognized and meets ASTM, MIL and AMS specifications.