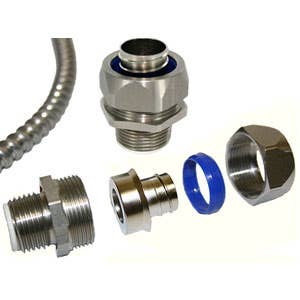 Stainless Steel Liquid-Tight Connectors
ElecDirect offers stainless steel liquid-tight connectors designed specifically for flexible liquid tight conduit. These liquid tight fittings are made of corrosion resistant 304 stainless steel; ideal for highly corrosive environments. These connectors are extremely durable and UV resistant. They also include an insulated throat for further cable protection.

In the past, you had to choose between plastic connectors that broke down in UV or metal connectors that rusted and needed frequent replacement. Now you get a strong and permanent seal with our LMSS series stainless steel connectors for metal flexible conduit.