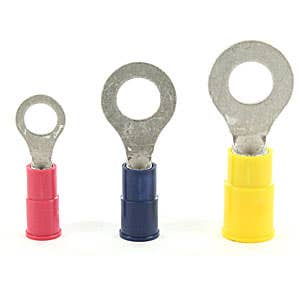 PVC Ring Terminals
UL and CSA rated for 600 Volts. All PVC ring terminal connectors are color coded to industry standards:
Red ring terminals for 22-18GA wire.
Blue ring terminals for 16-14GA wire.
Yellow ring terminals for 12-10GA wire.
Our PVC insulated ring terminals are also offered in larger sizes for 8GA (Red), 6GA (Blue) and 4GA (Yellow) wire and cable.

The PVC insulation sleeve on each ring terminal prevents vibration damage by not allowing the wire to flex at the point of crim.
Ring terminals made of PVC material have an operating temperature range: continuous duty from -67°F to 221°F (-55°C to 105°C)
Funnel ferrule wire entrance into electrical barrel eliminates wire strand 'hang-up', increases crimping rates and wire termination reliability.