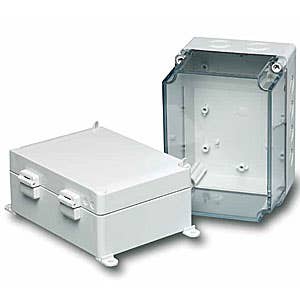 Polycarbonate Industrial Enclosures Medium
Ensto Cubo S is a series of small to medium size enclosures available with knockouts or plain sides. The base of the enclosures is equipped with unique slots for printed circuit boards.

Polycarbonate is highly suited for demanding outdoor applications. The material does not rust, offers nearly the impact resistance of steel, and unlike steels is light weight and an electrical insulator.

Polycarbonate enclosures are tested and approved for outdoor use and carry UL f1 and UL 5V flammability rating.